As the summer season (unfortunately) comes to an end, it's the perfect moment to reflect on the events of the past few months. From Taylor Swift raking in billions with her Eras tour to Lionel Messi joining Inter Miami, tons of notable public figures lit up the search engines across the country. 
This had us thinking, who were Americans most intrigued about this season? As a summer send off, we conducted a Google Trends analysis using the 'who is' search term to get a state-by-state breakdown. So, mirror, mirror, on the wall, who's stirring up America's curiosity most of all?  
Key findings:
The top search according to 56.8% of Americans was "who is Grimace?" 
"Who is the richest person in the world?" ranked 2nd most searched term. 
New Jersey, New York, and Texas's most popular summer search was "who is the president" – yikes! 
Celebrities like Jelly Roll, Kim Kardashian, and Matt Rife were some of the most searched summer icons.
'Who is' America's most searched summer icon?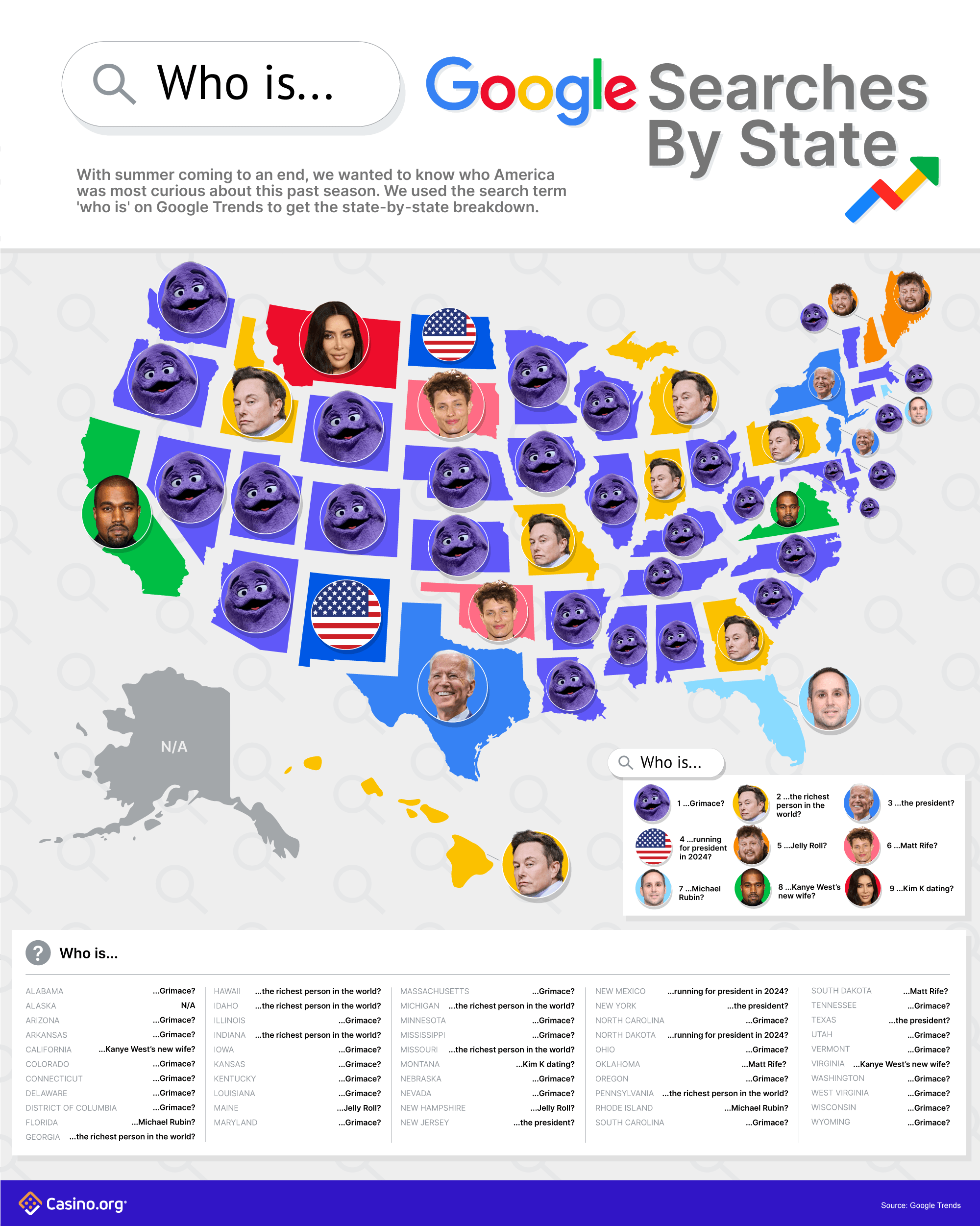 What's giant, purple, and causing a stir online? Yep, the one and only McDonald's summer icon, Grimace. When McDonald's released the 'Grimace Birthday Meal' on June 12, over half (56.8%) of Americans were intrigued by the mighty, purple mastcot's purpose and origin story. For those wondering, the Grimace Birthday Meal consists of a Big Mac, medium fries, and a medium Grimace Birthday Shake – a berry-flavored purple Milkshake. Thanks to Gen Z and Tiktok, America's summer superstar surged in popularity with the help of viral memes and the Birthday Meal. Ba da ba ba baaa, America is lovin' it! 
9 states (17.6%) set out to discover "who is the richest person in the world?" If you musk know, Elon lands himself at the top of the podium with his staggering net worth of over $233 billion. Thanks to his businesses like Tesla, X, and SpaceX, he reclaimed his title as 'the world's richest', overtaking the CEO of the French luxury goods empire, LVMH, in early June.
It might be time for a civics refresher for New Jersey, New York, and Texas as these three states queried: "who is the president?" With the upcoming presidential campaigns, talks and ongoing discussions about anything-presidential related, the curiosity was contagious.. In fact, two states, New Mexico and North Dakota, were most interested in finding out "who is running for president 2024?" 
A few (3.9%) other states had some questions about "who is Kanye West's new wife" when new paparazzi photos circulated around Yeezy's birthday this summer. He and his wife, Bianca Censori, moved in together in their new $20,000/month apartment around this time, which is probably why this peaked America's interests. 
On another note, billionaire Michael Rubin became a newly recognized name for a handful of states, as the CEO of Fanatics hosted a celebrity-packed party for the Fourth of July. Iconic guests like Justin Bieber, Jennifer Lopez, Travis Scott, and Kim Kardashian, contributed to the spike in Rubin's name as they shared the event through Instagram stories and TikToks. 
"Who is Jelly Roll" asked another 3.9% of the American population. Although it sounds like a Jolly Rancher-type candy, we can confirm that it's not. Think more 'rising country-rap music artist with three CMT music awards'. He sure is on a roll!
One state in particular, Montana, was Keeping Up With the Kardashians as their top search was "who is Kim K dating?" Rumors about Kim Kardashian and Tom Brady sparked in July which explains the heightened interest. Meanwhile, South Dakota, it's neighboring state, were eager to discover the identity of TikTok's heartthrob of a comedian, Matt Rife. 
As rumors, social media trends, holidays, and new marketing campaigns continue to unfold, it's clear that American curiosity will lead to more interesting discoveries in the coming months. Perhaps searches like "who is the GOAT football player" will dominate over the NFL season, or "who is Santa" in the Christmas season. 
Methodology 
In August 2023, we used the search query "who is" on Google Trends to identify the most searched for individual per state. Our search parameters were set to the last 90 days, to specifically target the summer months. 
Fair use
Feel free to use the data or visuals on this page for non-commercial purposes. Please be sure to include proper attribution linking back to this page to give credit to the authors. 
For any press questions, please contact rhiannon.odonohoe[at]casino.org