Let's put down the flying drones, virtual reality devices, and AI technology for a second to talk about simpler times. Remember when our not-so-smart watches could only tell the time? Or when our phones were for talking? Buckle up for a blast from the past, as we explore the trends and changes of retro technology.
According to the Oxford Dictionary, the term retro is described as something coming back into fashion, typically within a 20-year span, but not exceeding 40 years. Trust us, we gasped too when we realized Myspace was actually retro. 
Key Findings:
Digital cameras trend amongst Gen Z, while Boomers opt for landlines
Over half the US population is in favor of the digital camera trend
Transparent devices and flip phones were ranked #2 and #3 respectively
As we reminisced on the days of dial-up, we decided to run a study to see which technologies are making a comeback, which generations are leading the charge, and more. We surveyed over 2,000 Americans to see which old-school tech they're eager to bring back into style.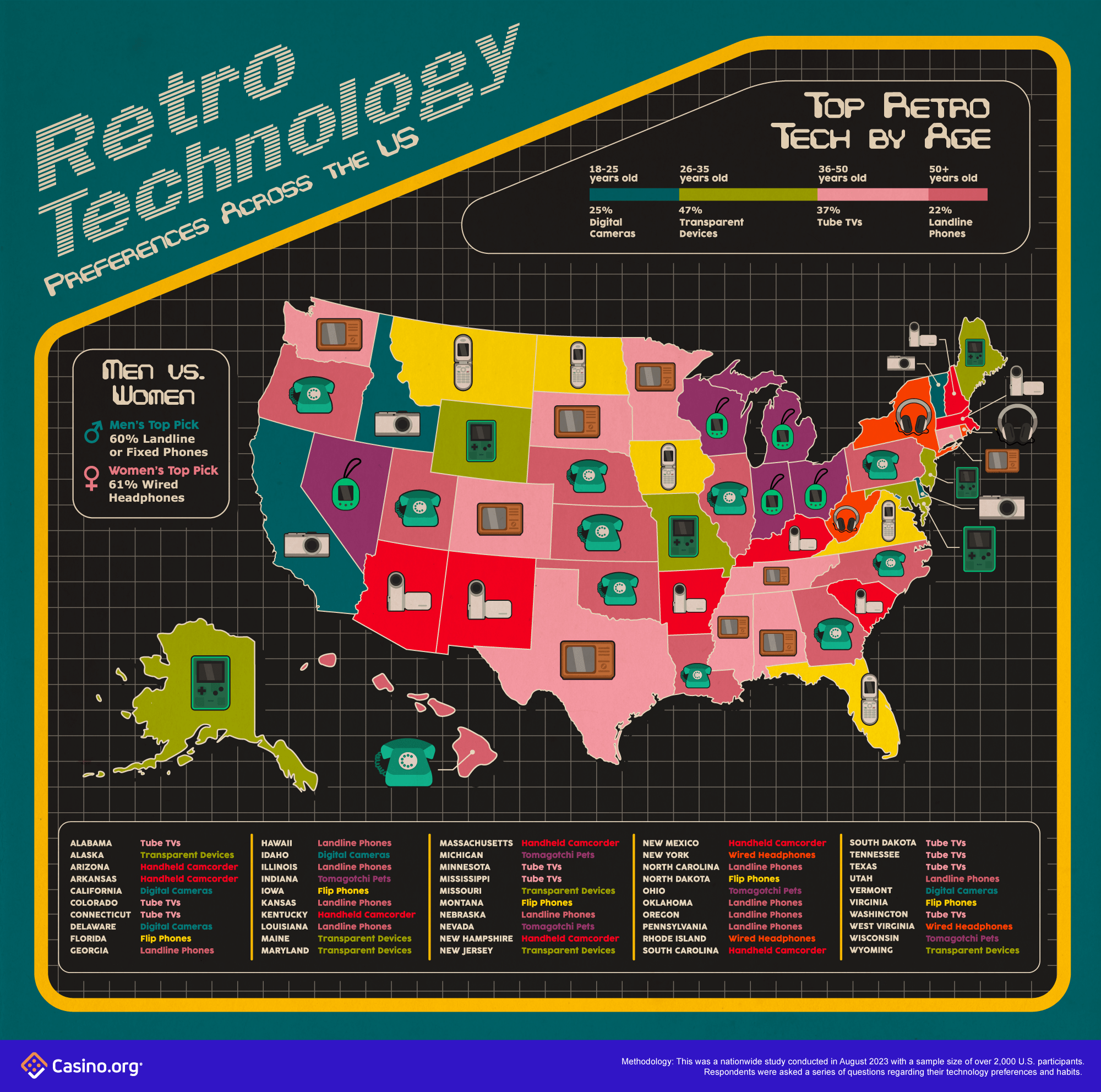 Say cheese! The Point and Shoot is back as #1 voted retro technology
The digital camera, in all its washed-out, flash photo glory, is apparently making a comeback. With Gen Z carrying their new (read: old) digital cameras around on their wrists like the hottest handbag, we were left scratching our heads…is the digital camera really back in fashion? 
As it turns out, yes. The digital camera is back and with gusto. When asked, respondents indicated that digital cameras were the number 1 retro technology they'd like to see brought back. 
Perhaps not surprisingly, the generation most in favor of it is the one that finds the technology novel. So to say, they never had to master the art of duck-faced mirror selfies with the horrendous point-and-shoot flash. 
That's right: Gen Z. This generation is all over the trend of digital cameras noting this as their top choice more than any other generation. A quarter of Gen Z respondents would like to see or are already bringing point-and-shoot cameras back into the personal gadget toolkit. 
See-through devices take second place
Remember when schools had the colorful Macs that you could peer through to admire all its bits and bobs? Or the gaming controllers that gave you a glimpse into what each button did? See-through tech is nothing new, but it's apparently a favored choice for retro comebacks.
Just behind digital cameras, transparent devices flaunt a see-through second place across the country. The states that selected see-through devices as their top choice for retro gear included: Alaska, Maryland, Maine, Montana, New Jersey, Missouri, and Wyoming.
Call me, beep me, if you want to reach me. Flip phones for 3rd place
Ah, that riveting feeling of slamming your phone shut after an excited phone call. Pressing a button on a touch-screen just doesn't scratch the same itch, now does it? The nation couldn't agree more. Coming into the national third place was flip phones. 
We can even turn to Google Trends to see the uptick in flip phone interest based on rising search volumes. Queries like "flip phones with WhatsApp "flip phones with Spotify" and "flip phones 2023" have all seen a positive trend over the year. The first two, when looking at Google's 5-year trend, have seen a 67% increase in searches. The search "Nokia flip phone" was highlighted by Google's search engine as a "rising trend" with a 70%+ increase. 
Sometimes less is more and flip phones surely channel that sentiment. With limited functionality, their once-scorned negative is now a vintage positive. The states most ready to rock a bedazzled cell include Florida, Iowa, Nebraska, North Dakota, and Virginia.
Boomers want their landlines back 
Let's dive a little deeper into the generations. The "back in my day" talk can mean something entirely different whether you're speaking to a millennial or a boomer. The retro technologies across the different generations vary widely.
As covered, the youngest surveyed generation, Gen Z, is ready to strike a pose and get their pictures taken with point-and-shoot cameras as their number one favored retro technology. Maybe in a desire for nostalgia, millennials picked a childhood favorite: transparent devices. 
Those sweet memories of breakfast cereal and Saturday cartoons felt like an obvious pick for Generation X who chose box or tube televisions as their number one choice for retro technology. Boomers are busy twisting the phone cord with their hands as they pick landline phones as their top retro gear favorite. 
Men's and women's favorite retro technologies 
If we want to break it down by gender, we see some other interesting phenomena emerge. On the whole, women were most excited to see landlines return with 60% interest while the greatest divide on the other side was men's top pick of wired headphones at 61% interest. 
Other differences include men choosing transparent devices 10% more than women and box TV 5 points more than women. On the reverse, women far preferred Tamagotchi pets and digital cameras. Where the genders did agree was handheld cameras at an almost perfect tie.
The tech takeaways 
Untangle those earbuds, set your flip phone's ringtone, and take sweet care of your Tamagotchi, retro tech is here. And with the positive responses from our survey, we can see that it's here to stay! Whether it's a state favorite or Gen Z calling us back to our digital camera days, we can see that the popularity of each retro gear varies greatly. Eat your heart out, AI, we're bringing retro back!
Methodology
We surveyed over 2,000 Americans in July 2023 about their technology preferences. The age range was between 18-70 with all participants currently residing in the United States. Of the respondents, 48% were male, 48.1% were female and 3.9% were transgender or non-binary.
Fair Use
Feel free to use the data or visuals on this page for non-commercial purposes. Please be sure to include proper attribution linking back to this page to give credit to the authors.
For any press questions, please contact riley.clark[at]casino.org