Whether your team recovers from a seemingly impossible deficit, or your favorite player returns after a career-threatening injury, nothing quite compares to the drama of a huge comeback in sports.
In this article, we have listed the 10 greatest comebacks in sporting history, which are amazing and inspirational in equal measure.
Liverpool – UEFA Champions League Final (2005)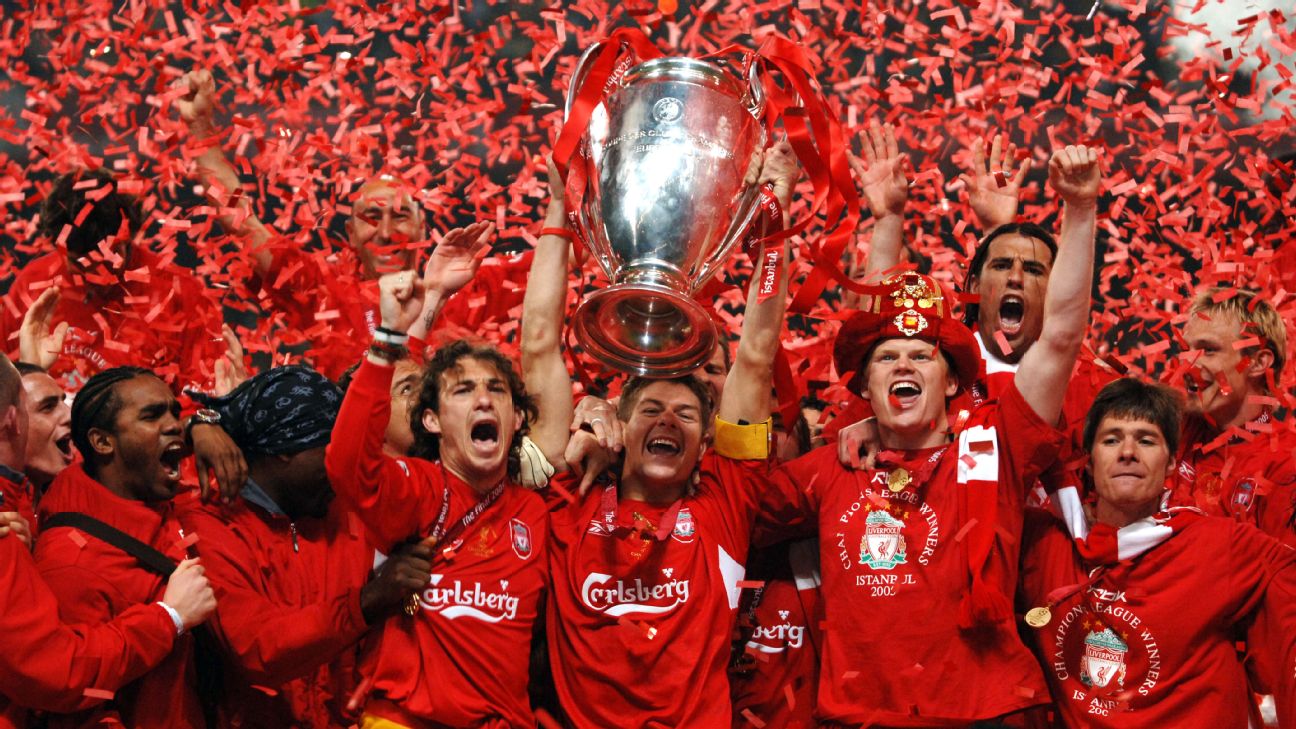 Cresdit: ESPN
Liverpool and AC Milan met in the UEFA Champions League Final in Istanbul, in what promised to be a historic clash between two giants of European soccer. However, what played out was one of the most memorable matches ever and one of the most notable comebacks in soccer history.
AC Milan had a commanding 3-0 lead at halftime, with Liverpool players and supporters looking equally dejected. Milan were European Champions just two years earlier and had a star-studded lineup, so a comeback was almost unthinkable.
All that changed nine minutes into the second half when Liverpool's inspirational captain, Steven Gerrard, scored and kickstarted the comeback, which eventually saw the game finish 3-3. Extra time and penalties followed, and after some mind games from Liverpool's keeper, Jerzy Dudek, Liverpool finally won the shootout 3-2.
Comeback Rating – 3/5
FC Barcelona – UEFA Champions League (2017)
The next comeback on our list also took place in the Champions League. In the 2016-17 season, Paris Saint-Germain sent shockwaves through European soccer after beating the mighty Barcelona 4-0 in Paris.
Barcelona boasted the enviable front three of Suarez, Neymar, and Messi and were many people's favorites to win the entire competition. The result in Paris was shocking, but so was what happened next.
In the return leg, Barcelona welcomed PSG to Camp Nou, and just three minutes into the match, the mercurial Luis Suarez gave the Catalan club hope. Two more goals followed on either side of halftime, and the locals dared to dream.
These dreams were seemingly dashed in the 62nd minute when Edinson Cavani scored for PSG. This left Barca needing a surely insurmountable three goals to win.
There were no goals in the next 25 minutes, and many fans had left the stadium, already resigned to victory. Neymar, though, had other ideas. He scored a free kick in the 88th minute, a penalty in the 91st minute, and finally set up his teammate Sergi Roberto to complete the comeback in the 95th minute. Even for such a historic and famous club, this comeback ranks as one of the most memorable nights in its history.
Comeback Rating – 3/5
Tiger Woods – The Masters (2019)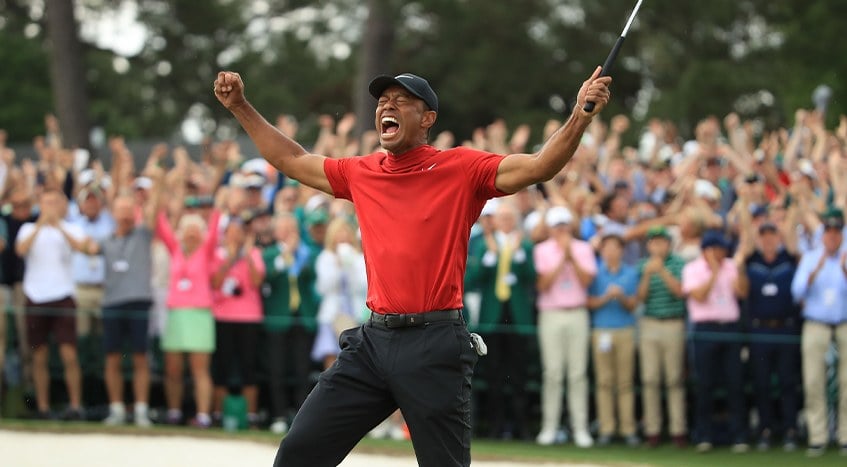 Credit: PGA Tour
Tiger Woods was a phenomenon. He dominated the world of golf in the late 90s and 00s, changing how the game was played and perceived globally. He won 14 major championships between 1997 and 2008 but then fell into a horrible decline that was marred by injuries and personal scandals.
This came to a head in 2017 when Woods was arrested for driving under the influence of alcohol or drugs. He eventually pled guilty to reckless driving, received one year of probation, a $250 fine, and was ordered to complete 50 hours of community service.
Woods' talent was never questioned, but many golf fans wondered whether Tiger's body and mind could withstand pressure well enough to claim a major title once again.
He answered those critics at the Masters in 2019, where he went on to claim his 15th Major win and a fifth green jacket. Woods was trailing by two shots when the final round started, but eventually took the lead and held off stiff competition from a world-class field.
It was the first time he ever won a major when trailing after three rounds, and he became the fifth player in golf history to have a gap of over a decade between major wins.
Comeback Rating – 4/5
New England Patriots – Super Bowl LI (2017)
The New England Patriots were the dominant team of the NFL in the '00s and '10s. From 2001 to 2014, the Pats appeared in six Super Bowls, winning four. That's why no one expected them to be trailing the Atlanta Falcons by 25 points in the third quarter of Super Bowl LI in 2017.
Tom Brady and Bill Belichick formed one of the most formidable head coach-quarterback combos in the history of the league, and once the Falcons gave them a sniff, they took full advantage.
The Patriots reeled off 25 unanswered points in the second half, and eventually, the game ended 28-28. After winning the all-important coin toss in overtime, the Patriots elected to receive the ball, and Brady and Co. didn't disappoint. They completed the job with their first drive, winning the game 34–28.
This comeback was unprecedented, as in the history of the NFL (dating back to 1940), teams leading by 17 or more points after three quarters in playoff games had a combined record of 133–0.
Comeback Rating – 4/5
Paul Lawrie – British Open (1999)
Paul Lawrie pulled off the most incredible comeback in golf history when he won the British Open in 1999. He started the final round 10 shots behind leader Jean Van de Velde, and had undoubtedly already written his own chances off.
Lawrie carded an incredible 67, but despite his outstanding performance, it was all in Van de Velde's hands. He held a three-shot lead going into the final hole, meaning he needed a double-bogey or better to claim the title.
It wasn't to be for the Frenchman, and things quickly unraveled. He hit the ball into the rough, then a grandstand, then a water hazard. He eventually got the ball onto the green and holed a putt for a triple-bogey 7, dropping him into a three-way tie with Paul Lawrie and Justin Leonard.
The playoff was played over four holes, and Lawrie held his nerve and composure to finish at even par, with Leonard and Van de Velde on three over. This put the final touches on an outstanding sporting comeback and the largest in golf major history.
Comeback Rating – 4/5
Boston Red Sox – American League Championship Series (2004)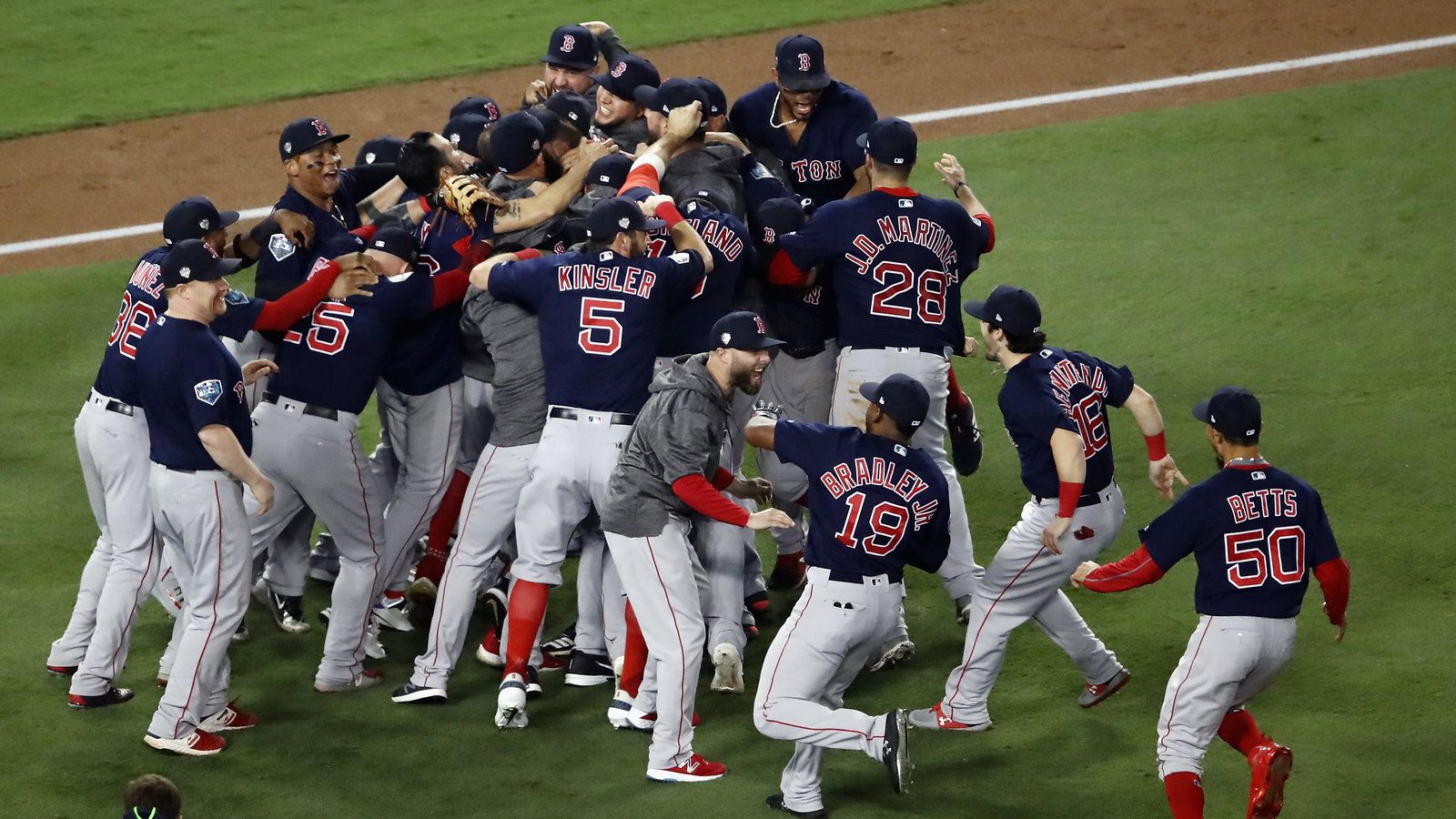 Credit: The New York Times
Heading into the fourth game of the American League Championship Series in 2004, the Boston Red Sox knew history was against them. No team in MLB history had ever been 3-0 down in a seven-game series and gone on to win.
In game three, they were destroyed 19-8 by a New York Yankees team that boasted huge names like Derek Jeter and Alex Rodriguez, so surely this was one step too far, right? Wrong! The Red Sox went on to win three close games in a row and completed the unthinkable comeback by beating the Yankees 10-3 in game seven in New York.
The magnitude of this comeback is highlighted by the fact that no team has won a series from this position before or since, and the Red Sox completed the job as they went on to sweep the St. Louis Cardinals in the World Series, claiming their first championship in 86 years.
Comeback Rating – 4.5/5
Michael Jordan's NBA Return (1995)
The pressure on Michael Jordan in the early 90s was immense. He was the biggest sports star in the US, and after leading the Chicago Bulls to a historic three-peat and then losing his father to murder, he decided enough was enough. He shockingly retired from basketball in 1993, aged just 30, stating he had lost his desire to play the sport.
Instead, he turned his hand to baseball, where he played for minor league teams, the Birmingham Barons and Scottsdale Scorpions from 1994 to 1995.
To the delight of basketball fans worldwide, Jordan came to his senses and returned to the Bulls midway through the 95-96 NBA season. Despite being away from professional basketball for 18 months, his return inspired the Bulls to go on a 13–4 run to end the regular season. But it wasn't until the following year that MJ was truly back.
In the next three seasons, Jordan won two league MVPs awards, three finals MVP awards, and three NBA titles with the Bulls. What a man, and what a comeback!
Comeback Rating – 4.5/5
Buffalo Bills – AFC Wild Card game (1993)
A game that is now affectionately known as "The Comback" took place in the NFL when the Buffalo Bills clashed with the Houston Oilers in the 1993 AFC Wild Card game. The Oilers dominated early, surging to a 28-3 halftime lead which they had extended to 35-3 in the third quarter.
Bills fans must have feared things getting even worse, as their starting quarterback was injured and backup Frank Reich was not having the best of games. He threw an interception in the third quarter, leading to the 32-point deficit.
But Reich had a history of making incredible comebacks as a backup. In his college days, he led the Maryland Terrapins to a 42-40 victory after being 31-0 down, and it turns out that lightning does strike twice.
Reich and the Bills quickly staged a remarkable comeback, scoring 28 points in the third quarter, and the game was eventually tied at 38-38. In overtime, Reich made a long completion to James Lofton, and they then positioned themselves for Steve Christie's 32-yard game-winning field goal.
The Bills won 41-38, having overcome a 32-point deficit – the largest comeback in NFL history at the time. Frank Reich hasn't had to buy a beer in Buffalo since.
Comeback Rating – 4.5/5
Leicester City – Premier League (2016)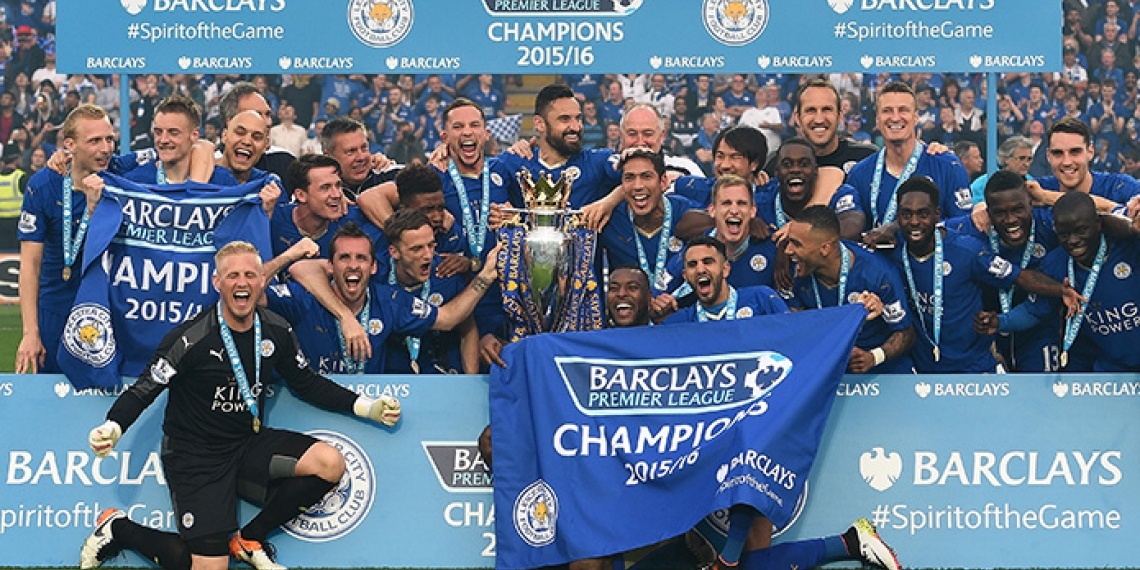 Credit: The Premier League
Many people have heard of Leicester City's 5000/1 Premier League winning season, but not everyone knows that just a few months before, they were one of the worst-performing teams in the league.
In the 2014/15 Premier League season, Leicester became only the third team to escape relegation, having been bottom at Christmas. Heading into 2015/16, many people tipped the Foxes to be in trouble again, especially after manager Nigel Pearson was sacked.
Italian Claudio Ranieri took over as Leicester's Head Coach, and what he achieved in the next nine months was nearly unthinkable. After a string of excellent performances against big names, and an incredible goal-scoring run from the former semi-pro, Jamie Vardy, Leicester City won the Premier League title with a total of 81 points. Ultimately, it was comfortable, as they finished the season with a 10-point cushion on the second-place team, Arsenal.
This turnaround in the club's fortunes was beyond the imagination of most fans, especially in one of the most competitive leagues in the world, and it will go down in soccer folklore as one of the biggest upsets ever.
Comeback Rating – 4.5/5
Bethany Hamilton – Return to Surfing (2004)
Bethany Hamilton is not a household name, but her sporting comeback story is one of the most inspirational ever. Bethany had dreams of making it big in professional surfing, and for good reason. At the age of nine, she received her first sponsorship, and by 13, she was dedicating her life to improving and reaching her goals.
Hamilton's life was turned upside down in 2003 when still aged just 13, she was attacked by a 14-foot tiger shark, which resulted in her losing her left arm. This type of injury would be enough for most people to give up on their sporting dreams, especially if it meant returning to the ocean again. But Bethany Hamilton isn't most people.
Less than a month after the attack, Hamilton was surfing again. Three months later, she was surfing competitively, and within two years, she won her first national surfing title.
Bethany Hamilton did much more than just recover from a difficult scoreline or answer her critics, and her comeback is one of the greatest of all time.
Comeback Rating – 5/5
Niki Lauda – Return to Formula One (1976)
Niki Lauda was one of the best drivers in the world and a star of Formula One in the 1970s. He won the Formula One World Drivers' Championship in 1975, and in the 1976 season, he was locked in a tense title battle with rival James Hunt.
At the German Grand Prix in 1976, Lauda's Ferrari swerved off the track, hit a barrier, and burst into flames. Horrified spectators watched as he was trapped in the burning wreckage for nearly a minute before being rescued by fellow drivers and track marshals.
Lauda sustained severe injuries – he suffered third-degree burns on his head and face and damage to his lungs due to inhaling toxic gasses and smoke. He was conscious when he was pulled from the wreckage but later lapsed into a coma and was even read his last rites by a priest in the hospital.
Remarkably, he returned to F1 and the Italian Grand Prix at Monza six weeks after the crash. Despite still healing and wearing a specially designed helmet to accommodate his bandages, Lauda displayed immense courage by returning to the track.
This unbelievable sporting comeback wasn't just about one race, though. Lauda returned to full competitive racing in the 1977 season and went on to win the World Drivers' Championship that year, just a single season after his devastating accident.
His remarkable recovery and return to Championship glory is the most unbelievable comeback in all sporting history and still inspires sports fans worldwide to this day. We salute you, Niki!
Comeback Rating – 5/5