Picture this: you scored cheap tickets for National Cinema Day. You're comfortably seated in the movie theater, relishing the satisfying crackling sound of a fountain drink, with your favorite snacks in hand. The question is, what is your cinema snack and drink of choice? 
With National Cinema Day just days away, we wanted to uncover the concession preferences that America will be sipping and munching on in front of the silver screen. We conducted a nationwide survey of over 2,000 Americans to reveal the most beloved cinema refreshments. 
Key Findings:
Salty popcorn reigns as America's #1 cinema snack of choice, according to 45 states.
43 states voted Coca-Cola as their favorite movie theater beverage.
The average movie-goer spends $16.43 on concessions.
Most popular movie munchies
It's not a full cinematic experience without the perfect movie snacks to accompany the action on screen. How else are we supposed to calm our nerves through the most thrilling movies? Whether you're a fan of the classic popcorn, tempting candies or chocolates, let's take a look at what the nation is munching on during their silver screen escapades.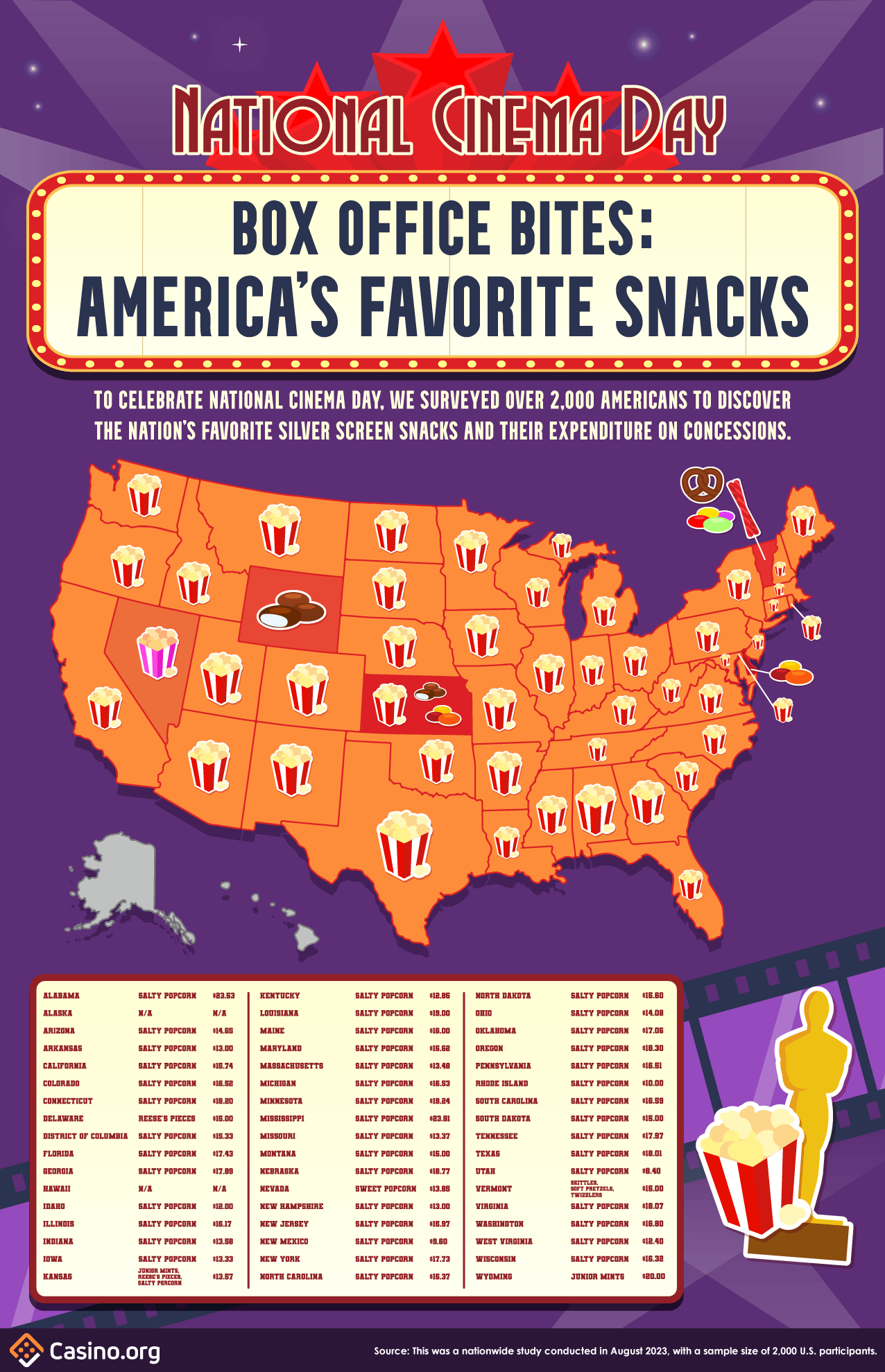 Salty popcorn is popping off as it claims the title as the nation's #1 beloved movie snack across 45 states. Whether it's a simple sprinkle of salt or very generous soak of butter, this iconic snack remains as America's concession staple that never disappoints. Very few opt for the more sweet than salty side of popcorn. The one and only state that are die hard fans of sweet popcorn is Nevada. 
Ever get so spooked, you need a chilling intermission? Wyoming sure does, as Junior Mints are their snack of choice. Named after the popular Broadway show, 'Junior Miss,' the chocolate-covered mint confection takes the spotlight in their theaters.
Stealing a piece of Delaware's movie-goers' hearts are the one and only, Reese's Pieces. Residents clearly go nuts for these playful and crunchy peanut butter candies, as it's their go-to film snack.
With such a delectable variety of cinema snacks, some states couldn't decide on a single favorite, so much so, they had to pick three. Right in the middle of the country, Kansas found itself in a three-way tie, embracing Junior Mints, Reese's Pieces, and the ever-reliable salty popcorn. Click your heels three times and these treats are at your fingertips! 
Meanwhile, Vermont also found itself in a three-way tie, indulging in the trifecta of Skittles, soft pretzels, and Twizzlers. Now that's a delicate and tasteful palette! 
America's favorite cinematic sips
Thirsty for a great movie experience? Look no further, as the nation has spoken about the cinema's best movie refreshments. 
"What's your drink of choice?" A Coca-Cola, according to 43 states. The iconic American soft drink takes the trophy as the nation's ultimate cinematic beverage.
However, some states couldn't settle for just a single sip – cough, cough, Arkansas and Montana. Coca-Cola and water tied for Arkansas' affections, while Coca-Cola and Dr. Pepper were thirsty for Montana's attention. I guess you get the best of both worlds in these two states? 
Surprisingly for both Delaware and Utah, water is their top movie drink. Whether it's a health-conscious choice or a speedy solution to wash down their savory or sweet indulgences, they're keeping it simple.
On the contrary, New Hampshire and Oklahoma are on the soft drink grind: 7UP for New Hampshire and Dr. Pepper for Oklahoma. 
Back to Vermont and its distinctive palette, they voted slushies as their ultimate cinema beverage companion. 
Concession budget: how much Americans spend on refreshments 
It's no secret that movie concessions can be quite costly with the national average ticket price at $10.53 – so we wanted to discover just how much Americans are willing to spend, on top of their movie tickets. We asked our respondents the following question: "On average, how much do you typically spend on cinema snacks and drinks?" 
The national average expense on cinema concessions stands at $16.43 per person. However, Mississippi spends the most on snacks and drinks, spending about $23.81 a person. Right on its heels, Alabama's indulgences follow closely behind at an average of $23.53. Finishing off the top three list for top spenders, Wyoming dishes out an average of $20.00 per individual.
Shifting to the other end of the financial spectrum, New Mexico and Utah reign as frugality champions, spending less than $10.00 on movie refreshments. As the runner-up, New Mexico only spends an average of $9.60 per person, while Utah takes the "we have snacks at home" trophy with a mere average expenditure of $8.40 a person.
All in all, it's safe to say that Americans won't miss out on a cinematic experience without their favorite treats and beverages even if they're spending $20+ on refreshments and tickets. Luckily for us, the vast majority of American theaters will partake in National Cinema Day with cheap tickets – aka, more room to splurge on concessions!
Methodology 
In August 2023, we surveyed over 2,000 U.S, residents about their cinema refreshment preferences. The average age of respondents was 40.6 years old. The representative sample comprised of 49.4% female, 48.9% male, 1.1% non-binary, 0.5% transgender, and 0.1% other.
Fair use
Feel free to use the data or visuals on this page for non-commercial purposes. Please be sure to include proper attribution linking back to this page to give credit to the authors. 
For any press questions, please contact rhiannon.odonohoe[at]casino.org