Your first trip to Las Vegas is an unforgettable experience. The billion-dollar casinos, the neon lights on Fremont, the crazy energy as you make your way up the most iconic boulevard in the world, the thrill of trying to beat the house in those temples of excess.
But while Sin City may seem carefree and wild, there are a lot of rules just under the surface, and probably the biggest one of them all is that you must be twenty-one to gamble in Las Vegas or, for that matter, the rest of Nevada. This is a state law that you will find strictly enforced.
Roughly nine other States allow persons 18 and up to gamble, depending on how you want to define it. But in Nevada, whether it's online gaming or sports betting, horse racing, the lottery, or walking into one of those legendary gambling halls on the Strip, you must be 21 to place a bet.
Gambling Law: "21 to Bet" Means 21 To Bet
The Nevada Gaming Commission issues licenses to different types of establishments, from the local Circle K to Bellagio, allowing them to offer gambling in its many forms. But in return, both the Commission and the Nevada Gaming Control Board expect that license holders will abide by the many laws and regulations they have put in place to protect the integrity and public perception of the gaming industry.
This is a duty that the Gaming Commission takes extremely seriously, leveling six-figure fines against casinos for allowing minors to gamble and, in many cases threatening to revoke licenses unless the casinos put better security in place. And this then spills over into tighter and tighter ID checkpoints and rules about minors on the casino floor or near gaming devices.
Casinos aren't the only ones who can be prosecuted. NRS 463.350 makes gambling under 21 in a Nevada casino a misdemeanor punishable by up to 6 months in jail and up to a $1000 fine. You will almost certainly spend the night in jail and face hefty legal bills if you get caught, which might not even be the worst of it.
Several underage gamblers have won 1 million dollars plus jackpots only to forfeit them for being underage. There is no Mr. Papagiorgio ID that will fool trained Las Vegas security staff for very long. Still, if you were lucky enough to get in and then hit the jackpot, the Know Your Customer regulations that are in place will quickly discover even the best fake ID.
I'm Under 21. What Can I Do In Las Vegas?
If you're coming to Las Vegas but are not 21 yet, all is not lost. There are still a ton of amazing things to do. And if you do your research, you will find that you can even rent hotel rooms and rental cars, though there are some hoops to jump through.
Most major strip hotels will also be off-limits if you need a hotel room. But downtown, the Golden Nugget still takes 18 and up and is a blast. Right in the middle of all the craziness of Fremont Street, this is a hotel you should book even when you are old enough to go somewhere else.
The two best slightly off-Strip properties for the younger crowd are at Westgate or the Tuscany. Our preference is Tuscany due to the laid-back vibe, interesting customer base, and cheaper rooms. Their small casino only has electronic table games, but the minimum bet is just a few dollars.
Music, Music, and More Music
You've got a home base and a way to get around; now what? Well, one of the largest draws for Las Vegas is concerts. And while some Las Vegas residency-type concerts are for those over 21, the vast majority of music in the city is for 18 years old and up. On top of that, some of the best music festivals in the country are held right here.
If you've never heard of the Electronic Daisy Carnival, I urge you to google some images and say that doesn't look like a good time. There is also the I-heart music festival, When We Were Young, Life Is Beautiful, and dozens of others.
So, whether it's Taylor Swift at Allegiant Stadium or DeadMau5 at the Las Vegas Events Center, this city always has great live music. Get out there and enjoy it.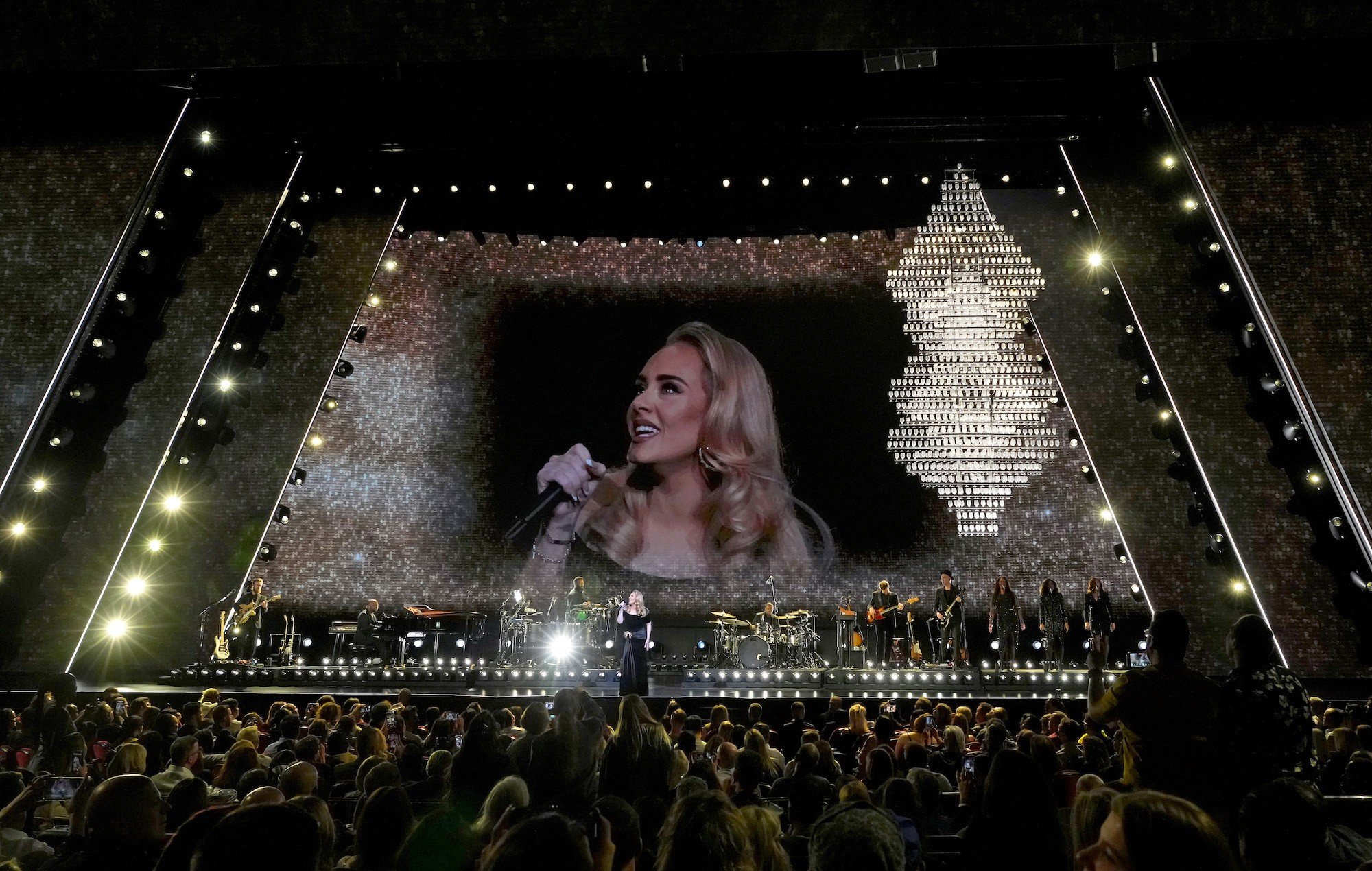 Creator: Kevin Mazur | Credit: Getty Images
Neon Paseo
A nighttime stroll through the Fremont experience downtown, or along the 4-mile stretch of Las Vegas Boulevard affectionately known as the Strip, should be a requirement for every visitor. The sights, the sounds, and the people watching are all world-class here.
There's an energy that is impossible to miss, especially along the Strip after dark. I suppose the best way to describe it is 'possibility'. The sense that anything can happen and just might. Well, that and the persistent smell of weed from all the folks who ignore the laws about smoking it in public.
And while the laws may not allow you to gamble in these casinos, you can still wander through many of them, though others may require you to have someone over 21 with you or even require that that person be a parent or legal guardian.
The easiest way is to ask security if you can walk through. They will let you know the individual casino's rules about minors crossing the gaming floor. Another note is that Las Vegas has a curfew, and while not strictly enforced, those under 18 are supposed to be off the Strip and away from downtown by 9 pm.
The security guard will remind you that there is no loitering, so keep moving through, but you will be able to take a good look around at the inside of some of the priciest and best-known buildings in the world, all while having all your senses assaulted in a way that only Vegas can.
Take our advice and go for a late-night ramble. You'll never look at this city the same again.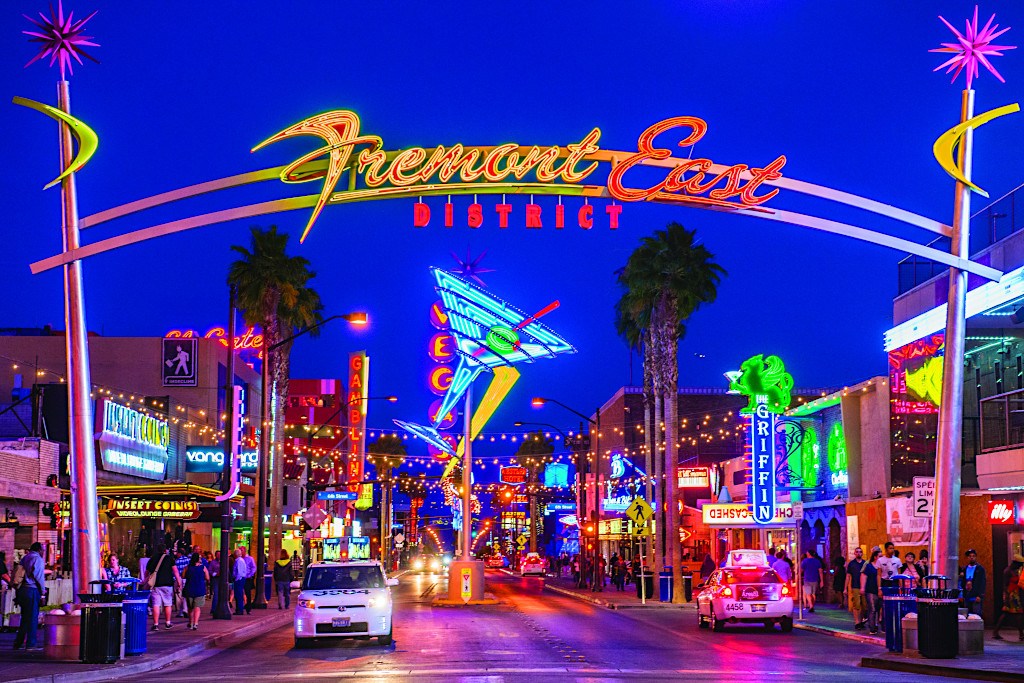 Outdoor Paradise
Las Vegas is surrounded by natural beauty that very few of the 40 million visitors a year will ever see. Red Rock Canyon, Valley of Fire, Mt Charleston, and Lake Mead are all within about an hour's drive.
Mt Charleston is like an entirely different ecosystem due to being 7100 feet above sea level. You can skiboard here in the winter, and in the summer, it can be 25 degrees cooler than downtown Las Vegas. The hiking and camping here are first-class, especially in the fall.
Lake Mead has had its ups and downs. Literally. The water levels in Lake Mead have fluctuated  200 feet or more over the past several decades, but one thing is certain: the water skiing, ziplining, and houseboat parties on the Lake have stayed at full blast.
Red Rock Canyon has amazing waterfalls if you time your trip right, and don't miss the 3,000-year-old Native American rock drawings and carvings. It's only 30 minutes from the Airport, but it feels like a thousand miles and a thousand years away.
Valley of Fire has some of the most unusual rock formations you will ever see. The red sandstone has been carved by wind and water into arches, towers, and ripply waves. The most famous are the Seven Sisters, a group of towers standing eerily along the roadway, or the Natural Arch, also conveniently located just off one of the spurs for easy photo taking.
What Happens In Vegas…
You don't have to be over 21 to make a lifetime of memories here. There are so many options for fun that don't involve gambling; we've only touched the surface. There are arcades and roller coasters, mob or neon museums, go-cart rides, and skydiving excursions. There are even major league hockey and football teams here, with a major league baseball team on the way if you want to catch a game.
Age is just a number when it comes to seeing Las Vegas and all it has to offer.