Around the wicket we go! We're talking about cricket! If this means nothing to you, don't worry. You and the 332 million other Americans who may not be fluent in cricket terminology are, understandably, left in the dark. But fear not- cricket has recently touched down (no, not that kind of touch-down) on American soil ready to win the hearts of its new, potential fan base. 
Cricket knows how to gather a crowd outside of the U.S. Its popularity earns it second place for the most popular sport on the global scale. Sports quotes and facts estimate that around 2.5 billion people follow the sport with over 120 participating countries. 
Despite its global success, it never quite made the pitch to U.S. audiences. That is, until now of course. As the new Major League Cricket steadies its gaze on expansion across the States, we ran a survey to see if it would be a home run success, or rather a "six" in cricket speak, or a leg before the wicket. 
Key Findings:
MLS fans are most open to a professional U.S. cricket league
31% are interested in the new MLC
Idaho and Georgia are the 2 states most excited about American cricket
Beyond the confines of cricket, we wanted to see what other sports Americans want to see domestically with options including professional cycling, rugby, and even bullfighting. Olé!
U.S. sports fans double as cricket skeptics
Sticky wickets, as you might've implied, are no bragging matter. In fact, cricket fans would tell you that it can be a rather tricky situation. As it turns out, the results are just as gloomy as our wickets are sticky. Despite its global fame, Americans aren't entirely convinced yet.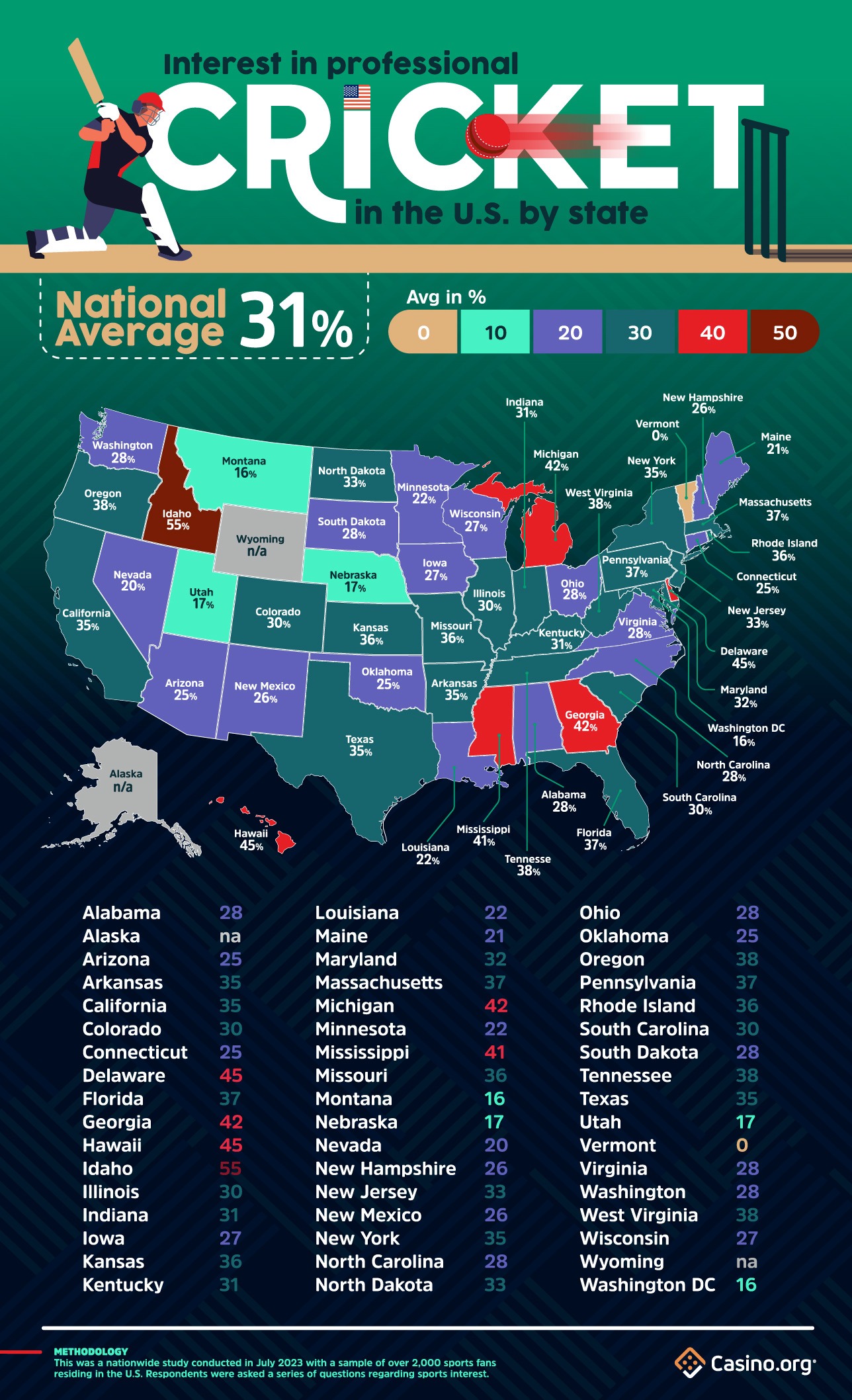 If the American knowledge of cricket is any indication of how well cricket is being received, we get an idea of its uncertain forecast. As we can see from the state-by-state breakdown, Americans aren't entirely against cricket, but they're not all for it either. A major part of this could be the hazy grasp of just exactly how the sport works. Whether you're cricket-literate or otherwise, it's easy to see that cricket is having a slow start in the U.S. 
Some states are more eager than others. Interestingly enough, Idaho leads the charge with an excitement rate of 55%, boasting a 24-point difference from the national average. The rainbow state is ushering in the game with warm "alohas" as Hawaii ranks second highest for U.S. cricket interest at 45%. Coming in third place with almost the same percentage as Hawaii was Delaware. Small in size, but grand in cricket admiration!
Then we have the haters. The third "least excited" states for major league cricket were Utah and Nebraska at 17% overall interest. Tied for a dissenting second to last were both Washington D.C. and Montana at 16%. The state most opposed to cricket was Vermont with all respondents claiming zero interest in the proposed sport.
Which sports fans are going crazy for cricket? 
Looking beyond the geographical scope, we wanted to know the perception from other major league sports fanatics. Are footballers trading in the 50-yard line for the infields? Is cricket a slam dunk amongst NBA fans?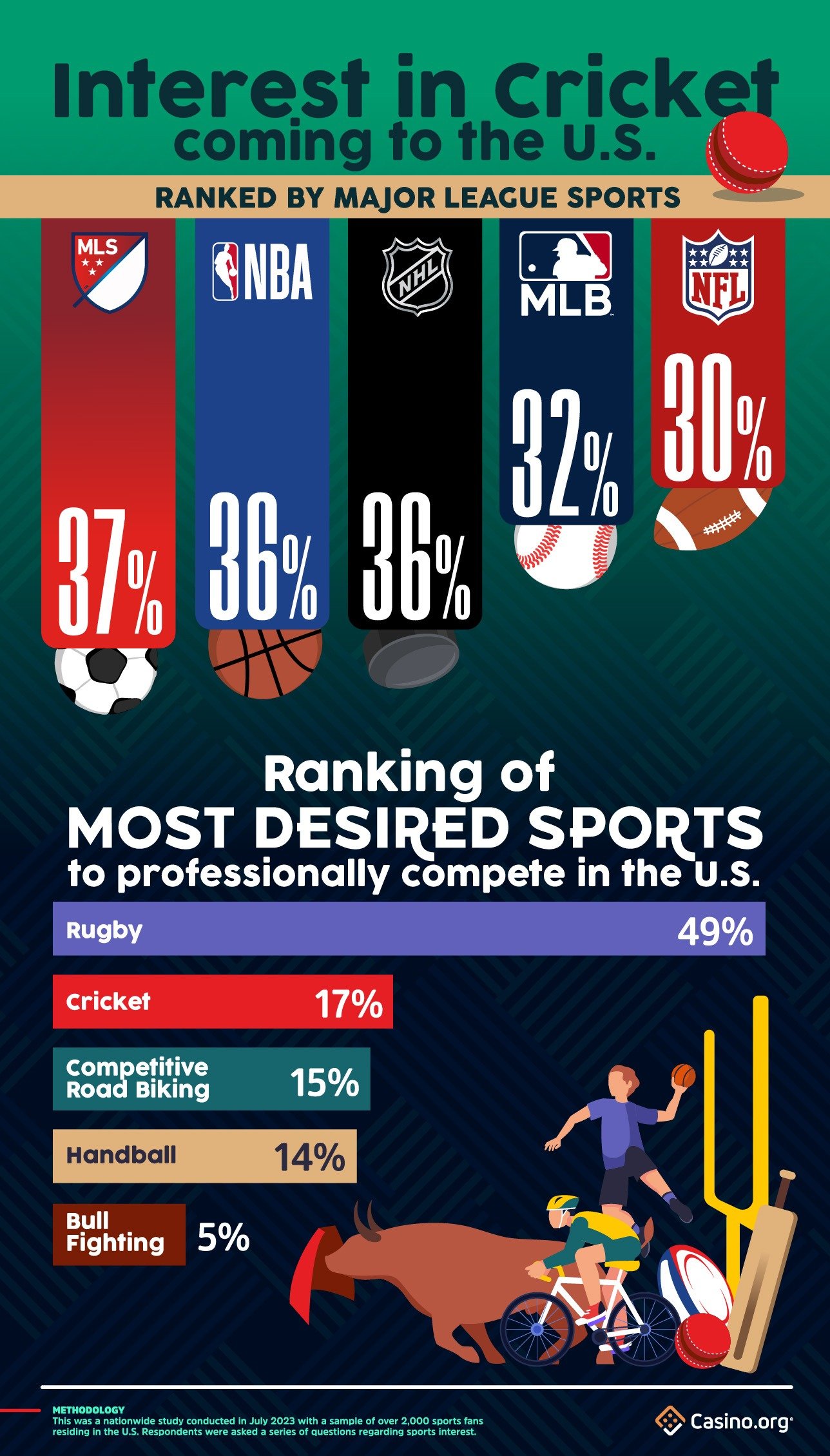 It might be logical to conclude that cricket would be the most popular amongst MLB fans considering the similarities, but baseballers are sticking to the roster and largely turning away from cricket. Rather, it was a more unlikely league to positively favor cricket in the U.S.
The sports league most eager to see cricket come to the U.S. was the MLS. The league already attracts a more international fan base, such as its British superfans, which could explain their openness to the new league. 37% of MLS fans claimed excitement for the new sport, the highest percentage out of all the current major league sports.
Tied for second was the NBA and NHL. With only an incremental difference behind MLS, these two major sports leagues were 36% interested in seeing cricket become a professional U.S. sport. 
Working our way down the batting order is the NFL with only 32% interest. A large majority of football fans cited "indifference" or "not at all interested" when asked how they felt about the news. American football being considered the cornerstone of the country's culture clues us in to why these sports fans might have little to no interest in the not-yet-american sport. 
It's a swing and a miss for MLB fans. Despite the sport's similarities, cricket is a no-go for baseball fanatics, where only 30% said they'd be interested in the new Major Cricket League. This adds an interesting layer to the new sport's arrival as the cricket matches that have been played in the U.S. this month have exclusively been in baseball stadiums. 
What sports do Americans want to see come to the U.S.?
As football tailgating is to America, the Tour De France is to Europeans. There are a number of popular sports that gather large crowds of spectators outside of the U.S. that are hardly ever heard of in the great U S of A. We asked American sports fans what else they'd be interested in seeing come to the country beyond cricket. 
If American football isn't your jam then maybe rugby will be. The sport emphasizes a lot of the same plays as American football, sans padding, of course. With that, American sports fans would be most excited in seeing rugby come to the U.S. Earning first place, 49% chose rugby as the most desired new U.S. professional sport. 
Perhaps echoing a sentiment of similarity like football is to rugby, cricket actually ranked number two on the list of sports that Americans would like to see come to the U.S. by 17%. Again, it might be something easier for Americans to digest with a lot of its plays mirroring those of baseball. 
Competitive road biking cycles its way into third place, where 15% of Americans chose it as the sport they'd most like to see come to the U.S. Taking a smaller percentage was handball, where only 14% of respondents chose this as the top sport they'd like to see become a professional U.S. league. Lastly, we can turn our "olé" into "no way" with only 5% of the vote going towards professional bullfighting. 
Cricket terms that sound made up but are 100% real
And just for fun, we'll round off with some useful and utterly wacky terminology so you can chant with the rest of 'em at your next local cricket match. 
Around the wicket: When a right-hand bowler passes to the right of the non-striker's stump in the run-up. Not to be confused with over the wicket.
Baggy Green: a cricket hat or cap
Beer match: If the scheduled match ends under the allotted time they may play an informal, friendly match that doesn't count against official scoring and ranking.
Bosey: See googly 
Cow shot: a hard shot, in the air.
Daddy hundred: the batter's individual score
Dance down: footwork used by the batter to move closer to the bowler
Dibbly dobbly: a medium pace delivery
Featherbed: a soft pitch with an average bounce
Fruit salad: bowlers with varying delivery types within a game
Googly: a deceptive, spinning delivery
Hoodoo: when a bowler seemingly targets a batter to get them out
Jaffa: an exceptionally well-bowled play, also known as a corker 
Leggie: a leg-spin bowler
Nurdle: scoring runs, oftentimes in singles
Pie chucker: a poor bowler
Projapoti: delivery by a specific pace bowler, intended to minimize rotation. Similar to baseball's "knuckleball" 
Shelled a dolly: to drop an easy catch
Sticky wicket: a difficult and wet pitch
Zoota: when a leg-break bowler bowls a flipper 
To sum it up
Clearly, we Americans have a lot to learn when it comes to the love of the game, but if the MLC continues to ramp up, as planned, we'll be surrey cutting and paddle scooping our way to the big leagues! America's apathy for the game has been made clear, but with time, it could slowly start to convert fans, especially those of the MLS, NHL, and NBA who cited the most interest.
In the world of international sports, some would outperform others. Americans ranked their interest in international sports in order of rugby, cricket, road biking/cycling, handball, and finally bullfighting. 
From the looks of our results, Americans are most comfortable sticking with the sports they know rather than the ones they don't. Our garages aren't ready for a new piece of sports equipment just yet, as cricket and the like remain unconvincing across the U.S.
Methodology
We surveyed over 2,000 American sports fans in July 2023 about their sports preferences. The age range was between 18-60 with all participants residing in the United States.
Fair Use
Feel free to use the data or visuals on this page for non-commercial purposes. Please be sure to include proper attribution linking back to this page to give credit to the authors.
For any press questions, please contact riley.clark[at]casino.org