Have you ever been immersed in your favorite TV show, only to question how the characters afford their extravagant lifestyles and homes? Let's face it, unless you're Blaire Waldorf, New York City's highest elite, the chances of your favorite TV persona living within their financial means could be quite slim.
We wanted to discover the financial viability of popular TV characters in today's society because let's be honest, it's expensive out here! We curated a list of some iconic on-screen personalities from popular and trending TV series to see who could actually afford their lifestyles in the real-world. Using the following factors: job titles, annual salaries, monthly net income, location, monthly rent or mortgage, and disposable income, we were able to crunch the numbers.
Key Findings:
Only Murders in the Building's Olive Putnam is in serious debt, as his monthly disposable income plunges to a deficit of -$69,044.
Modern Family's Phil Dunphy also needs to reevaluate his lifestyle, with a monthly disposable income of -$5,330. 
The Morning Show's Alexy Levy boasts the highest disposable income of $300,406 per month, with Blair Waldorf following closely behind ($215,142/per month).
TV characters that can continue to live their best life
Grab your popcorn as we uncover which popular characters are living within their financial means. Spoiler alert – you might cry from reading about how lavish their real-world lives could be.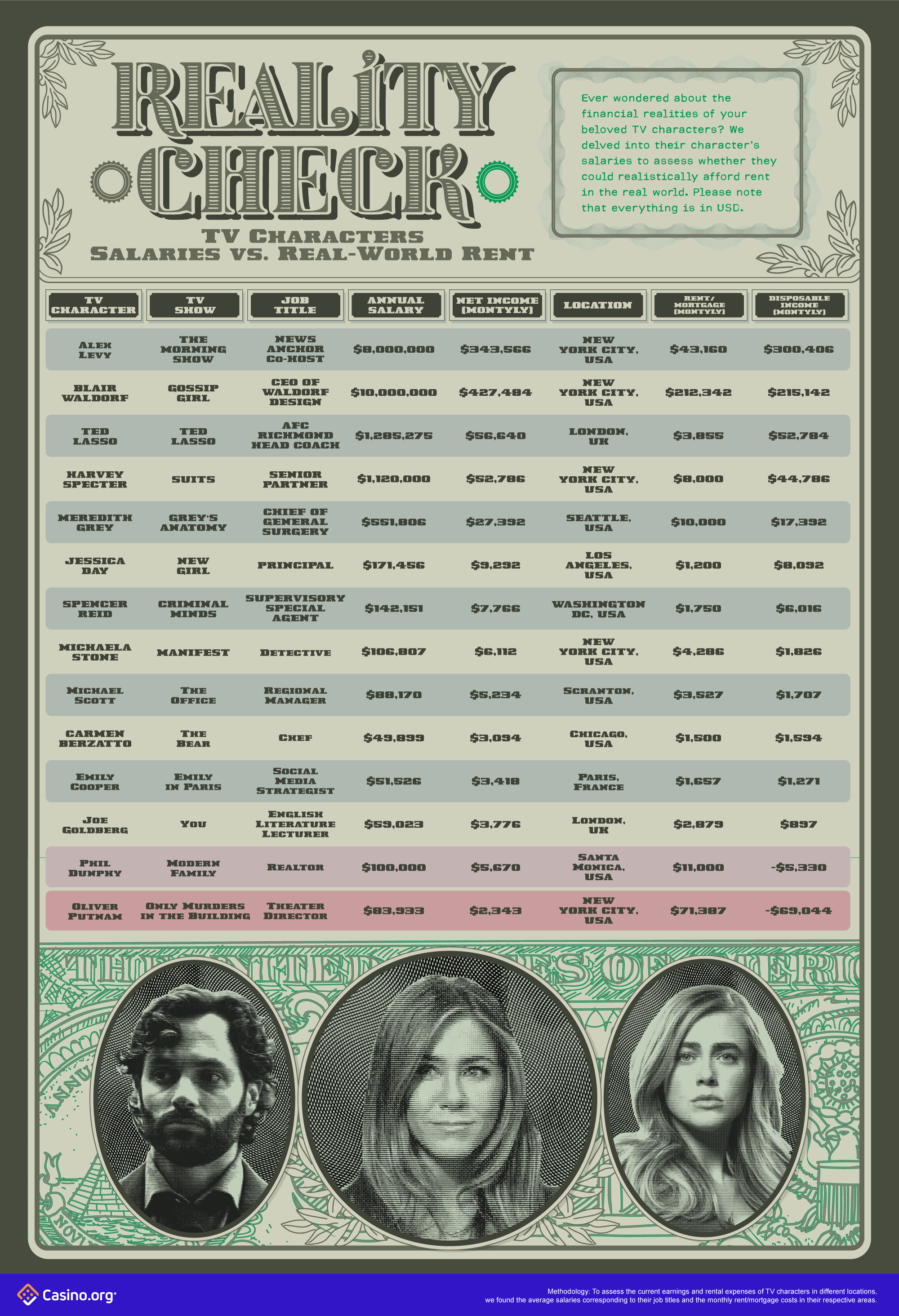 Raking in the big bucks with pockets full of expendable cash is The Morning Show's Alex Levy. Loosely inspired by NBC's Today Show, the News Anchor Co-Host is estimated to earn an impressive average of $8,000,000 annually, following the salary range of past and current news anchors at NBC – who typically earn between $1.2 million to $15 million. After taxes, Alex's net income amounts to a whopping $343,566 per month, leaving her plenty to spare on rent. Residing in a luxurious penthouse that overlooks the Hudson River on 173 Perry Street, Zillow estimates the rent for this exact penthouse at around $43,160 per month! Luckily for her, New York City's favorite News Anchor still boasts a gobsmacking $300,000+ in disposable income a month, after taxes and rent. 
Residing in the distinguished Upper East Side is none other than New York's "Queen B", Blair Waldorf, as she ranked 2nd on our financial realities chart. Despite coming from a very wealthy background, we focused solely on her CEO earnings for the purpose of our study. She was last seen on our screen as Waldorf Designs' new CEO, a luxurious fashion empire, where she earns an estimated annual income of $10,000,000 as per Glassdoor estimates. The Waldorf Penthouse on 1136 Fifth Avenue demands an eye-watering monthly rent of $212,342, but let's be honest – the lavishness and sheer quality speaks for itself. After taxes and rent, Blair is left with $215,142 in expendable income, solely from this stream of earnings. 
Chanting "we're Richmond till we die" all the way from the outskirts of London, is the beloved Ted Lasso, securing the third spot on our financial realities chart. As the head coach of AFC Richmond, Ted's estimated annual earnings stands at $1,285,275 (£1,000,000) since the club falls on the lower end of the Premier League salary scale. Coach Lasso's apartment on Paved Court in Richmond comes with an estimated monthly rent of $3,855 (£3,000) per month, according to Zoopla. This leaves the Midwest-twang character about $52,784 (£41,069) to spare after taxes and rent.
TV characters who need a reality check
Remember when Modern Family's Phil Dunphy dubbed himself as the 'cool dad'? Well, it's time for him to cool it down on the spending and seriously reconsider his financial means as he sits second to last overall. Glassdoor estimates Dunphy's annual income as a realtor in Santa Monica to average out to $100,000, a respectable income indeed, but Phil falls into a deep financial hole because of his hefty mortgage. For a house similar to the Dunphy's 4-bedroom, 2,600 square feet home on Zillow, the average mortgage costs $11,000. After taxes and rent, his spendable income plummets to…-$5,330/month. Yikes! Hopefully his wife, Claire, works a high income job as well, or they might need to consider moving. 
Oliver Putnam, one of Only Murders in the Building's lead characters, is in dire need of a financial wake-up as he falls last on our list. With a yearly income of $83,933 as a theater director, his New York City salary is quite decent. Unfortunately, his biggest downfall (besides being intensely obsessed with true crime) is the fact that he's residing in one of the city's most expensive buildings – The Belnord. The average rent in the famous and luxurious apartment complex skyrockets to a jaw dropping $71,387 per month! That's nearly Oliver's annual salary! Furthermore, his financial situation makes Dunphy's look quite decent in comparison, as his disposable monthly income plunges to -$69,044. Double yikes! But hey, perhaps the apartment complex will give him a (substantial) discount for solving a murder or two? 
In the end, the majority of our favorite TV characters can translate their captivating lifestyles from the screen to the real world. Characters like Harvey Specter (Suits), Meredith Grey (Grey's Anatomy), Jessica Day (New Girl), and Michaela Stone (Manifest), will bask in luxury like Alex Levy, Blair Waldorf, and Ted Lasso; whereas Michael Scott (The Office), Carmen Berzatto (Bear), and Emily Cooper (Emily in Paris), sits comfortably in middle-class. Joe Goldberg (You) will most likely have to adopt a student-budget mindset, given his low expendable income as he continues to live in London, one of the world's most expensive cities. Unfortunately, Phil Dunphy and Olive Putnam will more likely face dire financial challenges.
Methodology
In order to assess the current earnings of TV characters in different locations, we used Glassdoor to determine the average salaries corresponding to their respective job titles. 
To calculate the characters' monthly net income, we utilized Smart Asset's Paycheck Calculator for characters residing in the U.S. and their respective states, as state income taxes vary. For characters who live in the U.K. and France, we relied on Salary After Tax UK and Salary After Tax France to determine their monthly net income, as income tax rates differ abroad. 
To estimate the average monthly rent or mortgage costs in the U.S., we used Zillow to find prices for the exact characters' homes or comparable nearby properties. The same methodology was applied for characters residing in the U.K. (Zoopla) and France (Paris-Housing).
To discover the monthly disposable income, we simply subtracted the characters' rent or mortgage costs from their monthly net income.
Fair use
Feel free to use the data or visuals on this page for non-commercial purposes. Please be sure to include proper attribution linking back to this page to give credit to the authors.
For any press questions, please contact rhiannon.odonohoe[at]casino.org